21.12.2009-14.02.2010
SYMBIO (BIOPOLIS)
Galerie Vaclava Spaly,
Praha, Czech Republic.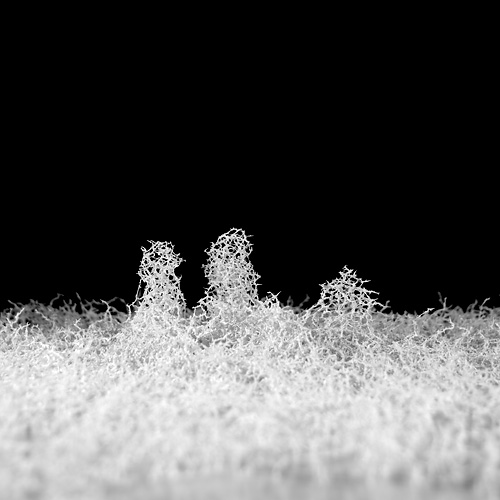 Exhibiting artists: Aljoscha, Eleanna Anagnos, Richard Fajnor, Joseph Farbrook, Andrew Johnson, Marek Kvetán, Joao Simoes, Al Wildey
Curators: Zora Carrier, Kelly Maximiuk, Brooke Wendt
Technology is influencing the way we conduct our everyday routines. Digital developments methodically build and redefine technology's existence in our cultural identity. Digital media constructs an abstract version of our reality into complex recreations that can be viewed on a monitor. The exploration of our world in virtual reality, as opposed to a world that can be touched, is how new media is changing traditional forms of art.
With the progression of the new digital age, artistic expressions and topics have been moving toward technology and scientific based projects. The advancements in technology is overwhelming, but in contrast, making our lives expeditious. Software allows us to generate forms that are not present in this dimension. The machinery we are making is surpassing our mental and physical capabilities. We can create innovative digital grounds and put our ideas in faster motion. The digital age permits us to reassemble our recreations of reality into a visual format in an intangible form.
Pixels are digital media's genes. They are tiny particles we can reconstruct and view under a screen. Technology has a code, much like the DNA that flows through our bodies. That code is made up of chromosomes, to make a unique structure, which is what new media does when it processes data. As quickly as our neurons transmit information to our brains, computers transmit figures at speeds we cannot fathom. When approaching new media, aesthetically this artwork is representative of cells rapidly moving, fueling our motives.
By deconstructing these parts, we are able to see the relationship of the micro to the macro. It can help us to understand the workings of our own bodies in the new technology era. To deal with this process, artists are creating reactions in minimalist interpretations to scientific, skewed or complex analysis of fact or fiction. Symbio is a digital heartbeat, it is operating, processing, and generating visual information that challenges our responses to our way of life.

Andrew Johnson is a Welsh artist. He completed his BFA in 1991 and his MFA in 1992 at the Duncan of Jordanstone College of Art in Dundee, Scotland. He is widely exhibited throughout Ireland, Wales, and Scotland.
The piece titled, untitled (2003), is a rhythmic pulsing of a red substance that grows outward in a circular motion on a white background. It resembles a beating heart. Johnson's artist's statement explains, "Art in people's consciousness is all things to all people and is a profound reflection of man's relationship with life and human creativity.
Eleanna Anagnos is an American artist working out of Brooklyn, NY. She received a BA in Studio Art and Concentration in Women's and Gender Studies from Kenyon College in Gambier Ohio in 2002. She completed her MFA at the Tyler School of Art at Temple University in Elkins Park, Pennsylvania in 2005. She has been exhibited in various states, mostly New York, and has had an exhibition in Rome.
The pieces titled, I try my best (2009), substrata (2009), and Otherspace I (2009) (done in collaboration with David Kant), are videos shot on a cell phone during daily activities. They are scenes in motion in areas that are commonly visited. She abstracts our environment into places that become unrealistic and unfamiliar to us. Anagnos edits her work in a way that she describes as changing her work "from real-time documentation to something more along the lines of painting, where gestures are generated through the use of actual light."
Aljoscha is a Ukraine artist working out of Germany. Aljoscha has attended Art Academy Düsseldorf, Germany and the Academy of Fine Arts in Salzburg, Austria. Aljoscha has been exhibited through out Europe in Germany, Spain and Italy.
The piece titled Bioism Networking/Object 30 (2006) is a stop motion video that shows a created organism growth at rapid speed. Aljoscha is greatly influenced by biology, stating, "bioism or, biofuturism represents my attempt of creating new living forms and the new aesthetics of the future organic life. Bioism for me is the way to develop art objects which itself expressing the new forms of vital activity."
Joesph Farbrook is an American artist working out of Massachusetts. He received his BA and MFA The University of Colorado. He has been exhibited in Asia, South America, the Middle East and in the United States.
The piece titled Cell in the New Body (2006) is a graphic digital animation that combines text to create anxiety. It is composed of thin lines that form cell like bodies. Farbrook explains his piece as "From primordial soup, a cell forms. Over time, many cells group together, forming larger and more complex entities. Each person is now a great ball of cells. What will be the next step in evolution as each one of us becomes a cell in the new body?"
Al Wildey is an American artist working in Michigan. Wildey received his BFA from the Rochester Institute of Technology in 1990 and his MFA at the University of Idaho in 1996. He has been widely exhibited throughout the states including California, New York, and Washington.
His pieces titled, America, Kentucky, and Pittsburgh (2009) are digital composites of compressed layers stretching over 6600 miles. They are a visual record of memory in a photographic sense to create individual pieces that continually travel. Wildey states, "Imagine a motion picture where all frames are compressed into a single image and viewed simultaneously; the result is a vague impression that can, at best, merely hint at the cumulative experience."
Joao Simones is a Portuguese artist working out of New York City. He received his MA at the Centre Cultura Contemporanea Barcelona, Spain in Architecture and Urban Culture. He has been exhibited in New York and Spain.

invitation card >

o výstavě >